The MultiSec range of engineered lifting systems includes the design and manufacture of Modular Spreader Beams, Bars, Lifting Beams, Lifting Frames, and a large array of other lifting equipment to suit your needs.
Our team has over 25 years of experience in the design and manufacture of bespoke lifting and handling equipment; and are on hand to deliver cost-effective and practical solutions to your lifting problems.
At MultiSec, we understand that productivity, reliability, and safety are what create sustainable value and help to keep businesses competitive. Our entire range is proof load tested before despatch and is always supplied with the relevant certifications.
We implement a four-stage process in ensuring that we always meet our clients' requirements.
Assess your needs.
Investigate suitable options.
Make a technical recommendation.
Deliver the solution.
Our highly skilled and knowledgeable sales, technical, and operations teams are available to provide information and guidance to clients, and also provide after-sale support at every stage.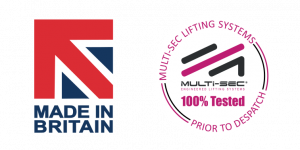 Cost Effective – A variety of spans and configurations can be made up with a small number of components.
Versatile – Our products can be configured into virtually any lifting rig to lift the most complicated of structures.
Storage – MultiSec products can be dismantled and stored in a relatively small area, saving your valuable space.
Handling – Our spreader beams can be handled more easily than conventional fixed spreader beams.
Transport – MultiSec equipment can be shipped with smaller, more cost-effective vehicles as it can be shipped in its component form.
All of our products are designed and manufactured in the United Kingdom.